Exterior vinyl colors ??
My house has
wood siding
that needs to be replaced with vinyl. We like a wider width vinyl. Any color suggestions for house, shutters, and door?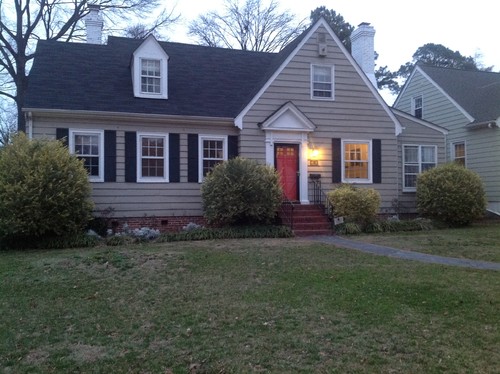 Sponsored Products
Tutti frutti placemats, set of 6
Origin Crafts
Contemporary Indoor/Outdoor Area Rug: Kas Rugs Rugs State of Honor Ivory 2 ft.
$41.97 | Home Depot
Diva Diary & Sticker Set
$11.99 | zulily
Kichler Morton Olde Bronze Chandelier 5-Light
PLFixtures
Nottingham Leather Folding Storage Ottoman Bench - 232218BLK
$71.39 | Hayneedle
Set of Four Pleated Linen Guest Towels
$59.50 | FRONTGATE
Personalized "Boyfriend" Backrest - FLINT
$275.00 | Horchow
Area Rug: Lauro Hot Cocoa New Zealand Wool 2' 6" x 8'
Home Depot
People viewed this after searching for: